Home

Conference Information

Venue
Taipei International Convention Center (TICC)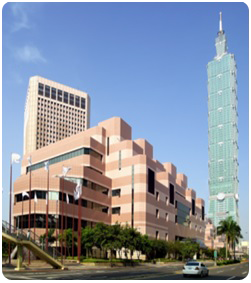 The Taipei International Convention Center (TICC) is a spectacular tribute to the emergence of Taipei as a world-class business destination. Purpose-built to meet all the requirements of international conference organizers with state-of-the-art facilities and an uncompromisingly high standard of service, it has everything needed to make any congress, conference, or meeting a success.
Address: No. 1, Sec.5, Hsin-Yi Rd., Taipei, 110 Taiwan.
Tel : +886-2-2725-5200
Fax : +886-2-2723-2590
For more information: http://www.ticc.com.tw/
Location
The TICC is situated in the foothills of eastern Taipei's Hsin-yi District, an area where the modern face of Taipei shines with glass and steel skyscrapers, one of the tallest buildings in the world, wide boulevards, and the Taipei World Trade Center complex. As the political, economic, and cultural center of Taipei, the district houses many landmark buildings, including the Taipei City Hall, Taipei City Council, National Dr. Sun Yat-Sen Memorial Hall, and Taipei 101.