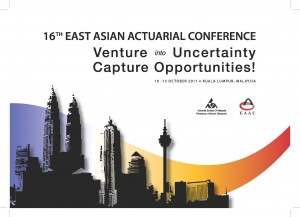 Kindly Click the link below to download the conference postcard
This biennial event will be held in the capital city of Malaysia, Kuala Lumpur from 10th – 13th October 2011. The conference was first held in Kuala Lumpur way back in 1981 and was known as "Actuarial Society of Malaysia, 1981 International Seminar". It progressed every 2 years in varying parts of Asia, making its way to Singapore, Taipei, Tokyo, Korea and Philippines. And Kuala Lumpur now plays host for the 2nd time.
This 4-day conference will have 3 Plenary Sessions and 19 Parallel Sessions with topics covering both Life and Takaful aspects of insurance. It is aimed to attract business professionals not only within the insurance industry, but also the finance, banking and investment sectors. On a more relaxed mode, an afternoon session has been reserved for a tour around Kuala Lumpur, and we welcome you to bring your companion on this trip.
As the premier event for Actuarial Society of Malaysia this year, with the event's main theme of "Venture into Uncertainty, Capture Opportunities!", the Organising Committee would like to extend our warmest welcome to you, and hope this conference will succeed in delivering ideas, aspirations and contributions alike. Selamat Datang!